We believe that each follower of Jesus is sent to be a disciple who makes disciples. Some are sent to those who live near to them, some are sent to those who are local to them and from different cultures, and others are sent to those who live far away and may be from a very different culture. We are delighted that some of the people from King's Church have moved to other nations to make disciples of Jesus. You can discover some of their stories here.
Abi and Manu – Madrid, Spain
Abi and Manu Moldenhauer are our missionaries working in Madrid, Spain. When someone says the words 'overseas missions', most minds usually jump to places like Africa and Central/South America – ours too! In fact Abi and Manu were serving in Reynosa, a city on the Mexican side of the Mexico/USA border when God spoke to them about moving to Spain. A life of faith is one lived in obedience to the heart and direction of God, and so they packed up their things and followed the Holy Spirit to Spain. Spain has just 1.6% Evangelical Christians and a long history of being hurt by religion. We know that God's heart breaks for this nation, and longs for them to be close to Him.
Abi and Manu are pioneering a missions base with the focus of seeing the nation transformed by the love, presence and power of Jesus. Their vision is to see a generation raised up that is radically in love with God, stepping into their full identity and being equipped to reach the nation. They aim to love and serve the poor around them, plant vibrant local churches and equip others nationwide. They love to raise up leaders and see people live in the fullness of what God has for them. Their heart is that their lives and the lives of those around them will be transformed by intimacy and deep encounter with God.
Ian, Katie and family – Skopje, Macedonia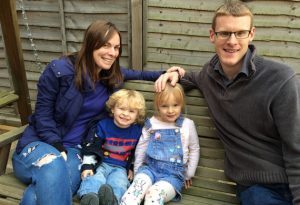 The Moore family (Ian, Katie, Kristen and Josiah) are missionaries in Skopje, Macedonia. They are working alongside Oaza (Oasis) Church and their priority is to raise up disciples who make disciples. They are always looking for opportunities to share the gospel with others. A key scripture for their work is Romans 1:16: "For I am not ashamed of the gospel, because it is the power of God that brings salvation to everyone who believes."
"We love seeing the gospel transform and shape people into disciples of Jesus." The Moores have a passion for the church being a 'family on mission' – living in a way that reflects the book of Acts where there are strong bonds of relationship and accountability between members of the community, a sense of 'doing life' together and supporting each other to share the gospel with those we meet. They seek to work with and empower the local church to hear God's voice and act upon what He says.
Macedonia is a small country of 2 million people of which only around 3000 are Christians. The majority of the population are either Muslim or follow the Orthodox tradition. It is a challenging country to work in and there are many spiritual challenges. In their time so far Ian and Katie have learned that they really need to battle in prayer for Kingdom breakthrough.
An important focus for them is on prayer, discipleship and evangelism. It is essential in their thinking that local Macedonians are involved with all that they do so that they can build something that will last. Along with the Macedonian Christians they do regular evangelism in a number of ways including street mission and ministering at a local drug rehabilitation centre. Additionally, they work alongside missionaries from other organisations who work with the Albanian population of Macedonia. They are passionate about sharing the gospel wherever they are and are always looking for opportunities to connect with the local community.
Ian and Katie would love it if you would like to get in touch to find out more or even come out to visit and join in with what they are doing. If you would like to find out more please get in touch using the contact page or through the Elim Missions website.
Scott – Skopje, Macedonia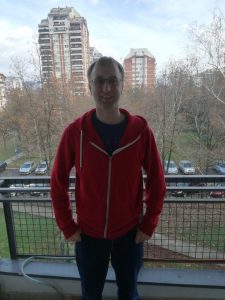 Scott is a cross-cultural missionary to Skopje in Macedonia. He is working alongside the Moore family in Oaza (Oasis) Church in seeking to make disciples who make disciples, looking at how they can reach new people with the Gospel and train existing believers in their walk with God and reaching others, both in organized activities and also the spontaneous moments of life.
An important Bible verse for Scott is 1 Thessalonians 2:8: "Because we loved you so much, we were delighted to share with you not only the gospel of God but our lives as well." They look at how they partner with God in building a community that is seeking the face and heart of Him, serves and builds each other up in the faith, and has an outward looking missional DNA.
Prayer is a massive part of walking with God, both from an individual and a corporate perspective, with God Himself declaring, "My house will be called a house of prayer for all nations." (Isaiah 56:7b) As well as his role in Oaza Church, Scott is a part of the team at the Macedonia House of Prayer, seeking to press into God for a spiritual awakening to Christ amongst the people of Macedonia and beyond. In this capacity, he meets up with other church leaders across the city in seeking to partner in developing further those cross relationships between churches. Together they are looking also at how they can establish a prayer culture that leads to Kingdom outreach and reconciliation between the different ethnic peoples of Macedonia and in the region of the Balkans where past wars have led to much animosity and bitterness.